本年も当ツアーにご参加頂き誠にありがとうございました。
当ツアーは11月5日をもちまして2023年シーズンの営業を終了しました。
2024年4月下旬に再開を予定しております。
予約の受付は3月上旬に開始予定です。
またのご参加をガイド一同心よりお待ちしております。
定員:6名様まで
料金:7,000円(1名、税込)
日程:8月12日から8月20日まで毎日開催 ※天候不良時は中止
所要時間:約1時間30分 ※乗車講習とオリエンテーション含む
開催時間:6:30~8:00(10分前集合)
定員:4名様まで
料金:8,000円(1名、税込)
日程:6月23日から9月9日までの週末のみ催行 ※天候不良時は中止


   8/8追記:8月11日から8月19日は毎日開催!

所要時間:約2時間  ※乗車講習とオリエンテーション、星空観賞を含む
開催時間:下記いずれかの時間帯を予定 ※日没時間にあわせて変更
     6-7月(予定実施時間)18:30 ~ 20:30
     8月 (予定実施時間)18:00 ~ 20:00
     9月 (予定実施時間)17:30 ~ 19:30
いつも当ツアーにご参加頂き誠にありがとうございます。
セグウェイジャパン直営ツアーにご参加頂いたお客様は、公式サイトからのご予約で1,000円の割引をおこなってまいりましたが、このたび割引額を1,500円に変更することといたしました。

2022年10月1日以降のご参加から1,500円引きになります。
対象となるセグウェイジャパン直営ツアーは下記の通りです。
函館大沼
つくば(2016年4月以降の参加)※現在休止中
武蔵丘陵森林公園
昭和記念公園
横浜
箱根芦ノ湖
海の中道

※当サイトからの予約に限ります。
※その他割引との併用はできません。
ご予約はこちら
We accept private tours only on weekdays. You don't have to worry about other participants, and you can experience both the course and the tour at your own pace. It is a more advantageous pricing than holding all frames. Spend a special time just for couples, families and friends. The contents of the tour will be responded to within the range that can be arranged if there is a request.
Private tour pricing
1名〜3名:30,000円
4名:36,000円
5名:45,000円
6名:54,000円
7名:63,000円
8名:72,000円
*全て税込
プライベートセグウェイツアーのお申込みはこちら

Location
Vast location in Hokkaido

About Hakodate Onuma, Hokkaido
Onuma Quasi - National Park became the only quasi-national park in south Hokkaido, the thirteenth in Japan in July 1958. Located in the central part of the Oshima Peninsula in the southwest part of Hokkaido, It has Komagatake, an active volcano, and large and small lakes including Onuma, Konuma, Junsainuma made by eruption, surrounding areas rich in nature. The total area is 9,083 hectares, and it extends over three towns, Kameda Gun Nanaecho, Kayabe Gun Shikabe-cho, and Morimachi.
** Click here for details → Whole Onuma / Onuma National Park tourist guide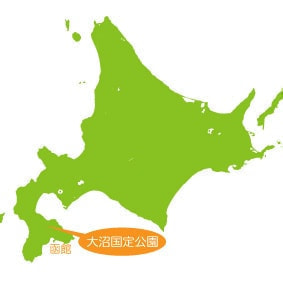 Hokkaido Hakodate Great field of Onuma
函館大沼セグウェイツアーは、函館大沼プリンスホテルの広大な敷地内に広がる草原、シラカバやミズナラの林を巡ります。適度にワイルド感のあるトレイルは初心者から上級者までゆったり楽しむことができます。運が良ければエゾリスやキタキツネに出会えたり、駒ヶ岳山麓の自然を満喫頂けるおすすめのフィールドです。


A magnificent view of Mt. Komagatake
While exploring the magnificent Komagatake, there are spacious grasslands and
Birch and oak forest
See streets, forests, hills, onumas, etc.
There are various places.


Know the origins of mountains and forests
You can feel the nature produced by the terrain created by the eruption of Komagatake volcano
.


Animals and plants
We are blessed with a rich nature environment and a lot of wild animals inhabit here.
is.
Hokkaido Squirrels, red foxes, and waterbirds.
So it is a great charm
to experience the nature of Onuma
.


You feel the richness of nature
We will guide participants to discover characteristic plants and animals (includung footprints)
living
in forests, waterside, and grassy plain
by themselves.
What's about Segway Tour?
What is Segway Tour
Popular activity
There are over 1,000 Segway tours in the world such as Washington DC, Paris, San Francisco, etc., and it is a hands-on activity recognized around the world. It is a tour to discover the charm of the land with a guide. In Japan, it cannot be run on public roads except for demonstration tests, so it is held only in limited places.
Among them, the Segway tour of Hakodate Onuma, Hokkaido, offers an attractive tour that is not restricted to the driving place unique to the vast land of Hokkaido.
Would you like to experience the popular activities to the fullest?
Discovery unique to Segway
A new discovery moving along with a guide telling the charm of the land. The view from the eyes on the Segway about 20 cm higher is fresh from the eyes when I usually walk. You can enjoy flowers, smells and comfortable winds that you do not normally notice. Even beginners can participate with confidence because the guide will give you a lesson at first. Even at first you are nervous, Segway's operation has become one's own thing. As soon as the operation becomes yourself, everyone else is supposed to smile.
Segway Smile Connections
Facebook & Instagram & Twitter